Find your natural radiant glow with one of our signature facials, body wraps or skin care services utilizing our Eminence Organic and Biodynamic skin care line. Our staff will help you achieve your skin care goals with a holistic approach to skin care, using the finest ingredients from nature along with years of experience.
Customized Organic Halcyon Facial
Nourish your skin with this relaxing facial. Customized skin analysis followed with specifically selected Eminence Organic fruit and plant products specific to your skin type or skin conditions. Your skin will be cleansed, exfoliated, massaged, nourished and hydrated with the gifts of nature.
Organic Facial with a Peel
Rejuvenate your skin with this uplifting facial. Includes an organic peel to treat and oxygenate the skin, along eith the Halcyon Facial. These products increase cell turnover and nourish the skin, leaving your face smooth and refreshed.
Relax and purify your skin with a gentleman's facial. Your skin will be cleansed, exfoliated, massaged, nourished and hydrated with our Organic Eminence Stone Crop products. Products may be customized for specific skin types and conditions.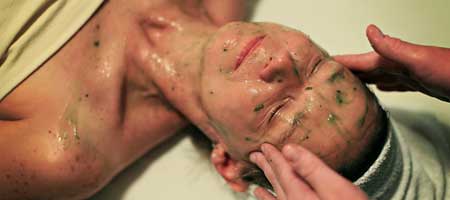 Nourish and hydrate the back with an Eminence Organic Facial to the area. The skin will be cleansed and exfoliated to purify the skin, followed by a masque to meet your skin care needs, followed extractions as indicated. Lastly the skin will be massaged with moisturizer leaving the back soft, relaxed and radiant.
Body Wrap
1 1/4 hours (+ 30 min massage)
$130
1 3/4 hours (+ 1 hr massage)
$160
We will begin with exfoliation. This will cleanse, refine, and prep your skin for the wrap. Next, you will receive an organic wrap to your body to draw out impurities and wrap you in warmth to receive the product benefits. Finally, you will shower off the wrap, and then return to your service room to be massaged with lotion or oil to hydrate the skin.
Relax with an exfoliating and nourishing sugar scrub before a massage, or as a stand-alone service. You will receive a full body exfoliation with one of our Eminence Organic Skin Care sugar scrubs, rinse off in our rain shower, and then return to your service room for a moisturizer application.
An exfoliating scrub is applied to the hands or feet then cleansed with warm towels. This provides a smooth surface for a rich lotion to penetrate the skin. Heated mittens are then placed on your hands or feet. Paraffin is then removed, and the hands or feet are massaged. 15-20 minutes per hands or feet.