Massage therapy is one of the oldest forms of healing. It helps you find the power of peace and calm, by alleviating stress, tension, pain, and soreness; and improving circulation, flexibility, and deep relaxation. Let our staff assist you in having a "Halcyon" massage experience.
Swedish massage, blended with various styles of massage and bodywork, customized for each individual client.
Deep Tissue Massage to focus on knots, areas of greater tissue tension and for the client who prefers a deeper pressure.
Pre-natal massage reduces stress and relieves tension caused by the physiological changes during pregnancy.
The perfect massage to help you unwind and melt away stress. Smooth, heated stones massage away muscle tension, increase circulation and stimulate the flow of Chi.
Receive a relaxing therapeutic massage next to a friend or loved one. Two tables set together so you can relax as a couple, in our duo massage room.
Designed to increase the depth and benefit of your massage. Two massage therapists work together using a variety of modalities to assist the client in relaxation and the healing process.
Melt away facial and upper body tension with this relaxing treatment. A massage therapist will use Eminence organic skin care to massage away tension carried in the muscles of the face, neck and shoulders, soothe and moisturize the skin and soften the appearance of fine lines. Additional $10 with Arctic Berry Illuminating System.
Toe Pebbling
With 1/2 hour massage
$ 95
With 1 hour Massage
$ 125
The toes are massaged with hot pebble stones, which have been infused with essential oils, to stimulate reflexology points and relax the body. The feet are then wrapped with hot, damp towels to allow relaxation and increase circulation. While your feet relax, you will receive a neck and shoulder massage. This session is completed with a relaxing foot massage.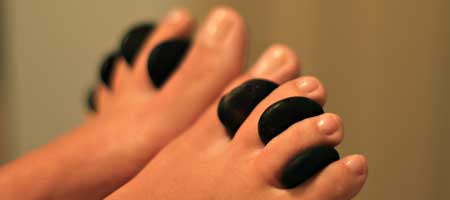 The use of bamboo tools for massage is an innovated way to relax tight muscles and release stress. Gently heated pieces of smooth bamboo are used for kneading tight muscles and rolling out tension. As the soothing heat penetrates the muscles, it increases circulation, improves lymphatic flow, and makes it easier to access those areas of underlying tension. The heated comfort of warm bamboo massage will leave you feeling relaxed and energized.