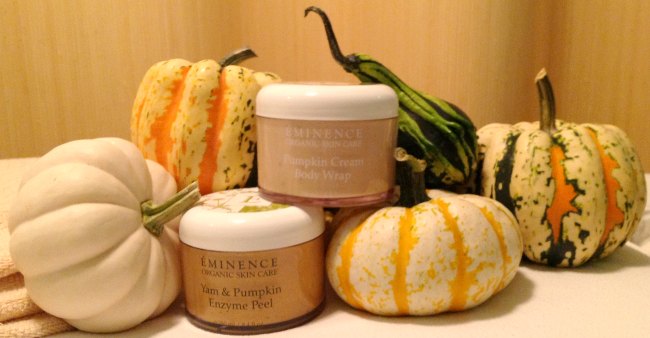 Pies, parfaits, soups, and lattes!  Pumpkin is everywhere!
Its popularity may peak after autumn, but the pumpkin's health and beauty benefits are going to make you crave the orange gourd all year long.
Orange you glad you ate your pumpkin?
Pumpkins get their bright orange hue from beta-carotene.  Known for its immune-boosting powers, beta-carotene is essential for eye health and has also been linked to preventing coronary heart disease. And what's great is you don't have to puree your own pumpkin to get the benefits!  One cup of canned pumpkin has seven grams of fiber, three grams of protein and only 80 calories. Plus, canned and fresh pumpkin is packed with vitamins and provides over half of the daily value of vitamin K.
Pumpkin and your skin
!
Pumpkin and pumpkin seed oil can be found in many skin products as well as some hair products.  Not only does pumpkin make for an amazingly scented experience, it also has powerful skin rejuvenating qualities.  With its high levels of essential fatty acids and antioxidants, and an assortment of vitamins and minerals, a pumpkin treatment will leave you glowing like a jack-o-lantern (minus the orange-ness).
Is it the pumpkin pie, or are you just happy to see me?
In a study cited by The New York Times, researchers at the Chicago foundation asked men attached to a plethysmograph (a device measuring changes in various parts of the body) to sniff 30 different odors. Out of all of the smells, the combination of lavender and pumpkin pie had the greatest arousal effect, increasing blood flow by 40 percent.  So even just the SMELL of pumpkin can improve body function.
The Pumpkin's Powerhouse:  Seeds!
You don't have to enjoy the taste of pumpkin to reap the benefits of its greatest health source.  One ounce of pumpkin seeds (about 140 seeds) is packed with protein, magnesium, potassium, and zinc.  Studies suggest pumpkin seeds provide a number of health benefits, such as blocking the enlargement of the prostate gland, lowering the risk of bladder stones, and even helping to prevent depression.  Pumpkin seeds are also high in Omega fatty acids, and their phytosterol compounds are believed to lower cholesterol levels.
Need some help catching ZZZ's?  Pumpkin seeds and pumpkin seed oil is high in the sleep-enhancing amino acid tryptophan which helps ensure a good night's sleep.  Seeds are also high in the heart-healing mineral magnesium, which has been shown to support relaxation and also help with restless leg syndrome.
Consumption 
The most beneficial way to consume pumpkin seeds is to eat them raw.  And because pumpkin seeds are highly portable and require no refrigeration, they make an excellent snack to keep with you when you're on the go.  As for the rest of the pumpkin, the delicious recipes and ways to incorporate are endless.
If you're ready to indulge in all of the health benefits of pumpkin, check out Halcyon Spa's pumpkin products, treatments, and upcoming food events featuring, you guessed it, PUMPKIN!  If you'd like more health and wellness knowledge, sign up for the Halcyon Spa newsletter on our home page.
~~~
HALCYON SPA'S NEW PUMPKIN SERVICES & PRODUCTS
Try our new Yam and Pumpkin Peel with a facial or facial massage or our new Pumpkin Body Wrap.
October Promotion $10 off any facial or facial massage.